Top 5 Things to Do in Patrick Square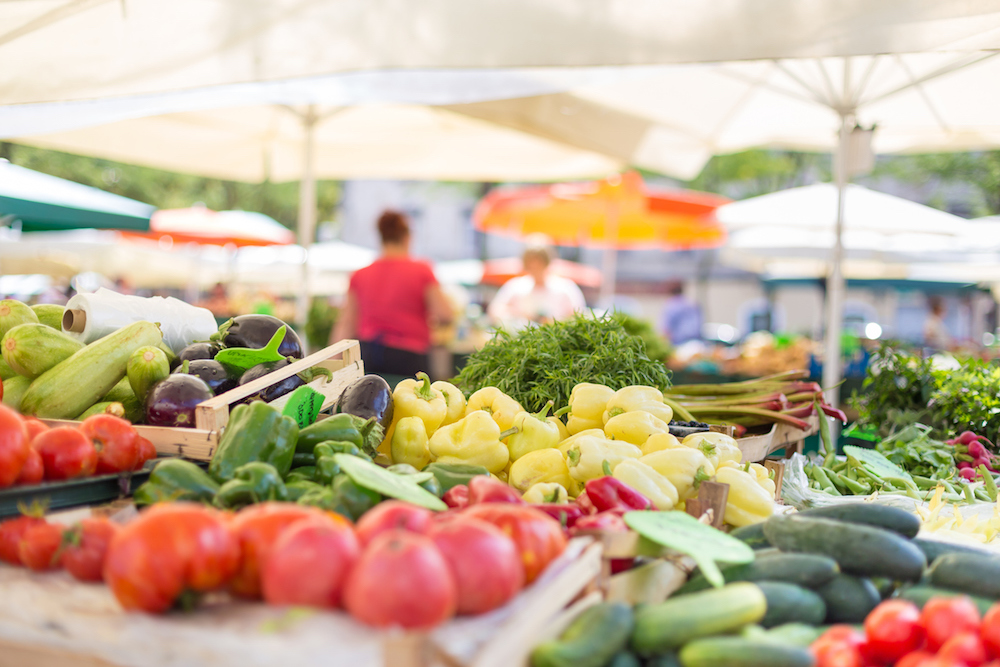 Clemson, South Carolina is a magical place. Teeming with history, architecture, sights and sounds, and good old-fashioned Southern hospitality at its finest, there's so much to love about one of South Carolina's crown jewels. Check out this list of the top 5 festivals in and around Clemson.
Brimming with picturesque, timeless charm, the Patrick Square neighborhood offers a unique sense of place for visitors and residents alike. This walkable, integrated community features activities, architecture, and a traditional town center that is both quaint and vibrant.
Check out our list below of the top 5 things to do in Patrick Square during your visit to South Carolina!
Enjoy the Clemson Farmer's Market
From gorgeous produce to live music, this weekly farmer's market has it all. Beginning in early May and continuing through late September, the Clemson Farmer's Market takes place on the Village Green in the heart of Patrick Square. A list of typical market fare reads like a gourmet menu, and often includes:
Fresh, locally grown fruits and veggies

Plants and herbs

Local honey and candles

Jams and jellies

Farm-fresh eggs

Grass-fed steaks, roasts, and ground beef

Fresh seafood including shrimp, scallops, and fish

Home-baked goods like cake, cookies, bread, and cinnamon rolls

Heritage pork and gourmet sausages

Granola and kombucha

Boiled peanuts and canned goods

Lavender bouquets

Freshly-squeezed juices

Artisan crafts including jewelry, ceramics, home goods, and more
A rotating bill comprised of Clemson's favorite musicians plays each week, and market-goers are invited to bring a chair and stay a while.
The farmer's market is also abuzz with different activity booths each week. In the past, the market has featured family history booths, as well as booths showing demos of rocket launches, remote control airplanes, drones, and more.
Additionally, vendors will offer market-goers complimentary services. Previously, Sweet Tea Cycles provided free bike safety checks and test rides.
After September, the farmer's market gets even more exciting with one themed specialty market occurring on the first Thursday of each month. These specialty markets are:
October - Gourmet tailgate-themed

November - Harvest-themed

December - Holiday-themed
This market is truly fun for the whole family!
Sip In Style At Clemson Wine Bar
Conveniently located around the corner from The Inn At Patrick Square, Clemson Wine Bar offers the best bites and pours south of the Mason Dixon Line. If you're new to wine, the establishment's seasoned sommeliers will be happy to guide you through your wine tasting experience. Experienced sippers will be impressed by the complex, ever-evolving wine menu. At Clemson Wine Bar, guests can enjoy:
Hand-Crafted Wine Flights - Wine flights are an excellent way to experiment with different varietals and expand your palate. You'll get to taste and compare three extravagant wines with a complimentary tasting mat to guide your experience.
Wine By The Bottle And The Glass - The Clemson Wine Bar offers a dynamic, international list of hand-picked fine wines. Whether you are planning to gather a group or indulge in sophisticated solo sipping, the ever-rotating menu offers something to please every palate.
Charcuterie Boards, Cheese Boards, And Small Plates - Compliment your wine selection with a chef-crafted cheese or charcuterie board. Proper pairings will make your wine sing, and our chefs and sommeliers will be happy to assist you in assembling your board.
Indulge In A Therapeutic Massage
Melt the stress and pains of travel away with an expert massage in the heart of Patrick Square.
Advance Massage is an athletic and therapeutic massage studio that offers advance appointments as well as occasional walk-in opportunities.
This massage studio is excellent for casual bodywork as well as massage to aid with inflammation and other issues related to injury or chronic conditions. If you struggle with travel because of physical issues, rest assured you'll be in experienced hands.
You can also arrange an outstanding massage at Clemson Sports Massage, LLC. Conveniently located in Patrick Square, this practice specializes in Sports Massage Therapy and is a member of the American Massage Therapy Association. To reserve your slot, book an appointment in advance.
Treat Yourself To A Trendy Trim
What's better than returning from a trip with a dazzling new look? Whether you're after a blowout or a total makeover, Bethany's Studio 1 has you covered. This salon offers cuts, colors, trims, balayage, keratin treatments, and Brazilian blowouts. Plus, if you're in town for a special event, Bethany's Studio 1 offers elegantly styled updos.
Both vacationers and business travelers will appreciate the opportunity to decompress with a healthy dose of self-care. Manicures and pedicures are available at the salon, meaning that you don't need to rush to book an appointment at home before you leave and risk messing up your technician's handiwork in transit.
If you want to look your very best, rest assured that Bethany Studio one also offers facial waxing and a variety of Merle Norman cosmetics for retail. If you forgot some beauty products at home, don't sweat it!
To reserve your appointment ahead of time, visit the Bethany Studio 1 online booking portal.
Hit The Barre … Then Have A Pizza Party
Traveling doesn't mean you have to throw your exercise routine out the window. Patrick Square has your fitness goals covered at Clemson Fitness Company. This multifaceted, community-oriented fitness center was founded on the notion that patrons should have access to a diverse array of high-quality group fitness options in one place.
The gym offers PulsePointe barre, TRX, HIIT, Kettlebell, Kickboxing, Balletone, and yoga classes. It's basically a one-stop fitness shop with something for everyone, no matter your skill level or preferences.
Clemson Fitness Company takes their mission seriously while always putting patrons first. The establishment's motto is "Sweat With A Purpose," and stems from their belief that every workout should be constructed with goals in mind. They encourage clients to "activate, challenge, and transform into the best possible version of themselves."
But what's a workout without a delicious reward?
After doubling down at the gym, grab your workout buddies for a post-fitness refuel at Joe's NY Pizza.
From traditional crust to calzones to stuffed pies, Joe's is paradise for any pizza lover. Fans of Italian fare will also appreciate a variety of entrees like baked ziti and chicken parmesan. Salad, hot Italian subs, and an array of appetizers are sure to hit the spot.
And don't forget, it's never a pizza party without cannoli!
What Are You Waiting For?
When you book your stay at The Inn At Patrick Square, all the amenities of the Patrick Square community are steps from your room. Located just minutes from Clemson, Patrick Square is a neighborhood in harmony with its setting. Every need can be met within walking distance, and a fresh-water lake sits at the edge of the neighborhood (accessible by footbridge, of course).
Whether you're looking to visit for business or pleasure, contact The Inn At Patrick Square about your trip today.