Best Event Space Near Clemson University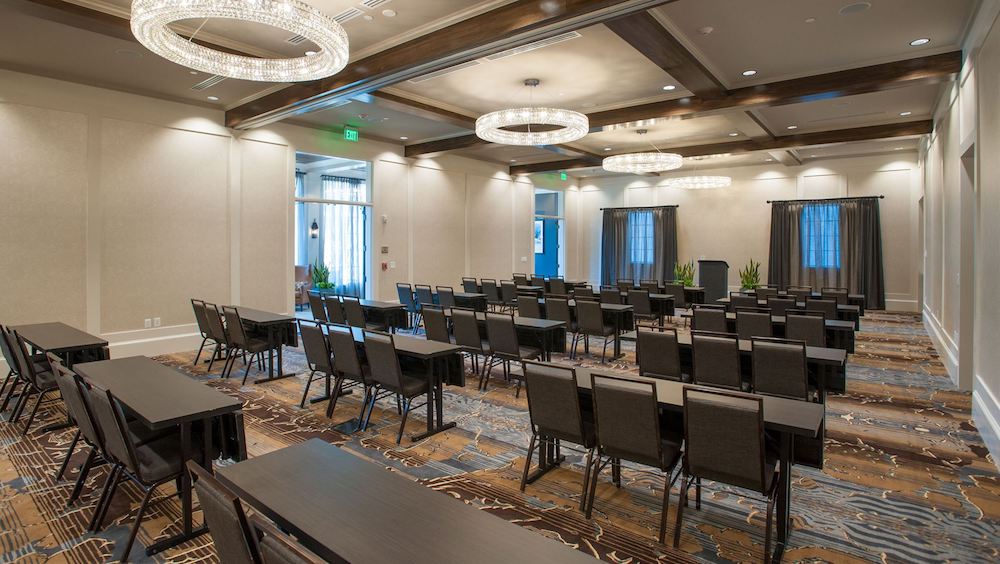 The Inn at Patrick Square is a beautiful new boutique hotel and the best event space near Clemson University. Located just three miles from the University and next door to the best restaurants in the city, our hotel offers multiple rental options that include gorgeous indoor rooms and sweeping outdoor locations where you can celebrate, commemorate, and entertain. The Inn at Patrick Square is a standout venue that is completely adaptable to your needs with a cozy yet classic feel. Whatever the event may be, it is our mission to make sure your occasion is a success and above all, memorable.
Weddings, Anniversaries, and More Clemson Events
Looking to plan your Clemson wedding? Our hotel is ideal for romantic events and it's situated in the heart of the quaint and charming Patrick Square. Celebrate in one of our stunning ballrooms, or stroll through our romantic outdoor veranda on the Village Green.
We have a number of spaces and amenities available so you can customize your event to meet your needs. Just to name a few, The Inn at Patrick Square has hosted:
Graduation Parties

Weddings

Retirement Celebrations/Reunions

Holiday Parties

Rehearsal Dinners

Bridal/Baby Showers

Corporate Events

Clemson Sports/Alumni Activities
Book the Barker Ballroom As Your Clemson Event Space
In the grand Barker Ballroom, we're proud to host magnificent and memorable weddings, reunions, and business events. The ballroom is the perfect luxury setting with rounded crystal chandeliers shimmering above and enough space for up to 120 seated guests. You're welcome to host your event solely in our spacious ballroom, or you can book these other areas of the premises:
Outdoor Venue Including a Pavilion and Restrooms

President's Hall Pre-Function Space
Event Dining Options at The Inn at Patrick Square
No event is complete without a delectable meal. Our location enables guests to experience the charm and fun of the quaint Patrick Square, including a variety of shops and delicious restaurants filled with local South Carolina cuisine. Our preferred dinner caterer for dinner events is our longtime neighbor, Rick Erwin's. Our daytime preferred caterers are the in-house Stumphouse Cafe and our new neighbor, SunnySide Cafe.
Rick Erwin's Clemson Catering
Rick Erwin's is comprised of a multi-award winning team whose mission is to thrill their guests with outstanding food and exceptional service. Fresh South Carolina seafood and prime steak gives your guests a dining experience they won't forget. Hors D'oeuvres, appetizers, chicken, pastries, sushi, and desserts are just some of the appetizing options you can choose. Rick Erwin's offers a lengthy wine selection and various beers and cocktails adding more elegance and liveliness to every event.
Stumphouse Cafe
Open daily from 6:00 AM - 2:00 PM, Stumphouse Cafe provides the perfect cuisine for light daytime events. The cafe is heavily influenced by the local Clemson legend of the Native American maiden, Issaqueena, and her home near the Stumphouse waterfall. Filled with artifacts, artwork, and other elements from the Native American heritage in Clemson, Stumphouse Cafe has become a favorite eatery at the Inn at Patrick Square. Stumphouse Cafe offers savory food for your event's breakfast or lunch with items such as coffee, smoothies, pastries, and gourmet breakfast and lunch sandwiches.
SunnySide Cafe
Just next door to the Inn sits the best southern breakfast in Clemson. Overlooking the Village Greene, the SunnySide Cafe is an old favorite of Clemson students and families, and a new edition to Patrick Square. This neighborhood breakfast spot is always alive with Patrick Square residents coming to get sausage, eggs and grits, all sourced within South Carolina. SunnySide's experienced staff is dedicated to serving local foods in eclectic and exciting dishes. The menu mixes classic breakfast with diverse sandwiches, salads, and wraps, all perfect for your next event lunch.
Contact Us Today To Set Up Your Next Clemson Event
At The Inn at Patrick Square, we want to make sure your event is picture-perfect. From the upscale to the casual, we're able to suit every event preference your party has in mind. To see why we're the best event space near Clemson University, call our Guest Services Department so we can help you craft and coordinate your special day.